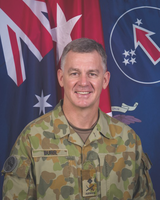 Event Details
About the Event:
This lecture will draw on Major General Rick Burr's experience as an Australian in the position of inagural Deputy Commanding General for Operations, U.S. Army Pacific. This has given Burr a unique perspective on the role of the US army in the Pacific. Burr will discuss how the US army operates in this region, how it views the changing regional security environment and the implications for regional security and especially Australia.

About the Speaker:
Major General Rick Burr is the inaugural Deputy Commanding General for Operations, U.S. Army Pacific. As an Australian Army officer he brings unique perspectives and experiences to this appointment.
Major General Burr's previous assignment was Commander of the 1st (Australian) Division and Deployable Joint Force Headquarters, and he also has extensive multinational command and operational experience with Special Forces.
In 2008 he was the inaugural Commander of ISAF SOF, comprising all Special Forces assigned to the International Security Assistance Force in Afghanistan. He has commanded the Special Air Service Regiment, and the Australian Special Forces Task Groups in Afghanistan (2002) and Iraq (2003).

Major General Burr has held a number of key staff appointments, including Military Assistant to the Chief of Army, Director General of Preparedness and Plans for the Army, a senior adviser in the Department of Prime Minister and Cabinet, and Director General of Military Strategic Commitments in Defence Headquarters.