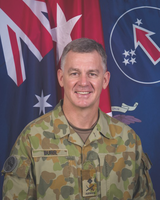 Greetings from the Australian National University in Canberra, where Major General Rick Burr, Deputy Commanding General for Operations, U.S. Army Pacific, is speaking on "
The U.S. Army in the Indo-Asia Pacific: Implications for regional security
"General Burr, is an Australian Army officer, commanding US forces. He commented that he wears an Australian Army uniform (the same uniform I wore at
Exercise Tandem Thrust 97
), but with a US shoulder patch. He mentioned the US Asia-Pacific re-balance. Also he commented that the Asia-pacific is seen as a air force, navy and marine area of operations, but there are large armies in the region and so a potential area for operations of the US Army. Forces previously earmarked for Afghanistan are now back in the region (about 80,000). One HQ is in Brisbane currently for exercise
Talisman Saber 2013
. Two brigades are based in Alaska, one of which flew for 17 hours to parachute into Queensland on Saturday.
While Major Burr made the case for the US Army in the region, it remains the case that the US Marines, and the US 7th Fleet remains the core US force for the pacific. The US Brigade parachuted into Queensland, for example, could only survive in a hostile military environment for a matter of hours without support from the US Navy. General Burr described the Pacific as a "logistics theater".
The US Army is working with the Chinese military on disaster response exercises. The first exercises was in China last year and the next will be in the USA.
One point which occurs to me is that the Australian Army shares many issues with the US Army in confronting the Pacific theater. The Australian Defence Force has no distinct marine forces, unlike the USA and UK. It is therefore expected that the Australian regular army will undertake littoral operations. Australia has recently made a large investment in equipment for amphibious operations, with the purchase of the former UK landing ship dock
RFA Largs Bay
(L3006) and two new
Landing Helicopter Dock Ships
(essentially mini-aircraft carriers) under construction in Spain and Australia. However, the Australian Army has no recent experience in operating with the navy and conducting amphibious operations. I asked the General about this and in response he pointed out the that US Army has around 700 of its own ships and so considerable experience in the marine environment.He saw the Exercise Talisman Saber as the primary way for the Australian Army to learn littoral skills.
It should be noted that some US Army ships are Australian designed. These are the the
Fortitude class Joint High Speed Vessel
(JHSV) from Austral in Perth and similar designs from
Incat Australia
, in Hobart.