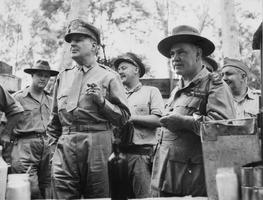 Dr Peter J. Dean
,
Senior Lecturer at the
Australian Command and Staff College
, will speak on "
Allies of a kind: United States and Australian military relations in the South West Pacific, 1942-43
", at the Australian National University in Canberra, 6:00 PM, 11 February 2014.
War Studies Seminar, No.3: Allies of a kind: United States and Australian military relations in the South West Pacific, 1942-43

Strategic & Defence Studies Centre

Tuesday, 11 February 2014 from 6:00 PM to 7:00 PM (EST)
Acton, ACT


The War Studies Seminars are open to the public and are to showcase the latest research on the history, character, conduct and effects of war.
Coalition warfare, complicated as it is by different strategic priorities and cultural differences, is always fraught with difficulties. The interactions between the United States and Australia in the Southwest Pacific Area during the Second World War were no exception. Examinations of this have generally focused on the two senior military commanders in theatre, General Douglas MacArthur and General Sir Thomas Blamey.
Frequently overlooked are the relationships further down the chain, where commanders and their troops had to develop workable joint doctrine and procedures to conduct always difficult amphibious operations, as well as operate together on the battlefield.
This seminar will explore the nature of the Australian–US military relations during 1942 and early 1943, and investigate the extent to which these unexpected partners were able to forge an effective working relationship.
Dr Peter J. DeanGuest speaker
Peter Dean is a Fellow in the Strategic and Defence Studies Centre as well as a Senior Lecturer at the Australian Command and Staff College, Australian National University. In 2011 he was a Research Associate at the United States Studies Centre (Sydney University) and a Visiting Fellow at the Centre For Australian and New Zealand Studies (Georgetown University, Washington DC). His major research and teaching interests are in Australian military history and defence studies. Peter is the author of a biography of Australia's most important operations staff officer, The Architect of Victory: The Military Career of Lieutenant-General Sir Frank Horton Berryman, 1894-1981, (Australian Army History Series, Cambridge University Press, 2011), editor of; Australia 1942: In the Shadow of War (Cambridge University Press, 2012), Australia 1943: The Liberation of New Guinea (Cambridge University Press, 2013) and Australia's Defence: A New Era? (Melbourne University Press, 2014).