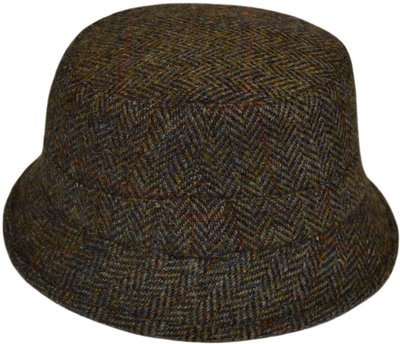 A few weeks ago I lost my tweed hat at the
CeBit exhibition in Sydney
. So I ordered a new
Harris Tweed Grouse / Fishing Hat
online on the
Isle of Harris
. This location in Scotland, about as far away from where I am in Canberra as you can get on the planet, but even so the hat took only two weeks to arrive (in time for the
Fly Fishing Film Festival
)
These hats are also called fly fishing hats or less poetically "bucket" hats. They have a small brim and a cylindrical crown. The brim is enough to keep rain off while fishing (I have used my
trout fly fishing
in the Snowy Mountains). They can be rolled up to put in a pocket. When made in tweed they are very warm, even when wet. Over time the tweed softens and also hides dirt.
How to go about purchasing a new tweed had proved a challenge. I purchased my previous one for ten pounds on sale at Stow-on-the-Wold (near Oxford)
in 1994
.
Strand Hatters
in the Strand Arcade and the
Irish Shop
in Paramatta Road, Sydney, have tweed hats for under $AU100. Searching on-line I found
The Spectator
offering a
Harris tweed
hat similar to the one I lost for 35 Pounds (about $AU62). There seemed to be numerous similar offerings for around this price.
Looking further I found hats for 26 Pounds (about $AU46), including delivery (the included postage was 6.63 Pounds). This was less than I could buy one locally. But there were some catches. This was described as a "sale", but the web page seemed to have been unchanged for years, so were these still on sale? The web site offered only Pay Pal for payment and the Pay Pal system refused to let me use my credit card, which caused some suspicion.
There were three colours of hats offered, but only tiny photos of each and no text description as to which colour was which. The Spectator included a
useful photo
with three different colour hats in it with each colour labeled: Loden Green, Gunmetal, Brown Grouse. I wanted a Brown hat, but ended up ordering a Green one (Ref G102) from Harris Tweed and Knitwear as I could not tell one colour from another.
Hat sizes
is also a complex issue. Different countries use different measuing systems, so working out exactly which I needed was difficult. I ended up choosing "Medium" which was fine.
I ordered the hat and it arrived. It is much the same as my previous one from 16 years ago, complete with a quilted interior. While I wanted a brown one and got a grey-green one, it looks fine, fits well and is perfect for wet Canberra wintry weather.
ps: Tweed hat makers might like to consider a model with a brim 10mm wider, similar to the "
boonie hat
" (giggle hat or bush hat), issued to US and Australian troops (I borrowed one to go on a
military exercise
). The extra shade would be particularly useful in the Australian Alps and in Northern Europe, where there is increased risk from UV radiation, even in winter.