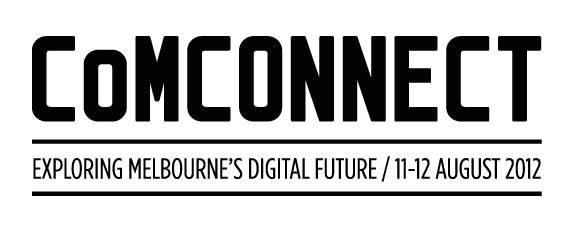 The city of Melbourne is hosting "
CoMConnect: Exploring Melbourne's Digital Future
", 11 August 2012. This is a free "un-conference" on how how digital technology can improve Melbourne.
This may be of interest to teachers, as education is a big part of the Digital City. Also other cities have Digital City programs, including the
Wellington Digital Strategy and Action Plan
,
Digital Manchester
and
Canberra
My Digital City innovation prize.
I booked to attend the event, when I was in Melbourne for
ICCSE2012
, but the event was delayed due to the Melbourne state by-election. So I will not now be able to attend, but here are some suggestions I have for a digital Melbourne:
Here is the official CoMConnect event announcement:

The City of Melbourne is exploring how digital technology can help keep Melbourne one of the greatest places to be - at work, at play and at home in the 21st Century.

CoM Connect will bring together community leaders, thinkers, designers, technologists, researchers, urbanists and makers over the weekend of the 11th and 12th August to explore Melbourne's digital future.

This is your invitation to join us!

We expect demand for this exciting event to be very high so act quickly to secure your spot.


Important things to know...

Our hashtag for the event: #comconnect
We ask that you do your best to commit to participating over both days. We understand this is a big ask and for our part we promise to make sure you are well fed, mentally stimulated and entertained by a diverse mix of fascinating people and conversations.

Due to the anticipated high demand we've had to limit the number of tickets to 1 per person. If you had previously registered to 'save the date' on behalf of friends or colleagues please forward them the invitation so they may register themselves.

In order to make sure we have a healthy mix of backgrounds and perspectives participating over the weekend a small number of invitations have already been issued. The remaining places will be allocated on a first come/first served basis.
In the event that all tickets are snapped up a waitlist will be used for the overflow. This means if you find yourself unable to make it please let the organisers know so someone else can take your place.

More about the event...


The Aims of CoM Connect...

Build Community – Start to build a network of people and companies interested in working alongside the City of Melbourne to explore ways we can deliver better experiences and services to those who live, work and play within the municipality.
Build Knowledge - Create an environment where leading Urban and Digital thinkers, researchers and practitioners can share share their knowledge about emerging trends and what they might mean for the City and its residents and visitors.
Inspire – Showcase examples of cutting edge ideas, projects and research already taking place across Melbourne.


The Format...

CoM Connect will be run as an unconference or open space event where the topics of discussion and the agenda are set by the participants.
Each day will start with a blank timetable that we'll populate with the talks and discussions the participants (yes, that means you!) want to lead and initiate.

Our venue at The Hub provides us with a multitude of adaptable spaces that can just as easily accommodate a plenary session for 200 as a conversation between a few people.
Once the timetable is populated it's up to you to decide which sessions you would like to attend and which talks and discussions you'd like to participate in.
For each session or discussion we ask that notes are kept and shared so all our creative and intellectual output is captured.

The Outcomes...

In the days following the event the City of Melbourne (along with everyone who participated) will be presented with a summary that outlines the main themes, opportunities and areas for further investigation. This will help guide the City of Melbourne's future research and engagement activities as we work towards developing a Digital City Strategy.