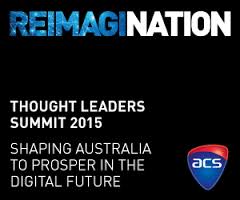 Greetings from the
Reimagination Summit
at the Star Casino in Sydney (to be followed by ACS Digital Disruptor Awards). The event is about "digital disruption" a term I don't like, although admittedly much of IT innovation does disrupt old processes in bringing in new. Also the idea that new technologies spring up suddenly is nonsense: the technologies which are now changing the way people learn and work have been developed over decades. This is not to downplay the importance of new technological developments, but it is as hard to work out how to put the invention into practice as to think it up in the first place. I see this in mentoring university students who are producing start-up businesses (I am designing a
m-learning innovation course
to help with with).
One of the speakers commented that this was not the repeat of the DOT.COM bubble at the beginning of the century. I believe there is some risk of this. What we need is not boosterism extorting CEOs and Prime Ministers to go digital, but a careful examination of what would useful and testing it actually delivers on the promises. Fortunately Australia now has a Prime Minister* who has experience sorting tech claims from reality. Unfortunately many companies do not have this depth of experience in their board rooms.
REIMAGINATION SUMMIT PROGRAM

9:00 AM: WELCOME AND OFFICIAL OPENING


Peter Switzer: Master of Ceremonies, SkyNews
Brenda Aynsley, OAM: President, ACS
Wayne Fitzsimmons: Chair, Pearcey Foundation

9:10 AM: KEYNOTE – The Importance of Ecosystems in New Business Models


Craig Dunn: Chair, Stone & Chalk

9:40 AM: KEYNOTE – New Business Models and Value Creation in the Digital Age


Kevin Ashton: Inventor of the term 'The Internet of Things', Creator of WeMo, Co-Founder & CEO of Zensi

10:40 AM: MORNING TEA 11:10 AM: PANEL – Extending Australia's 24th Year of Uninterrupted Annual Growth


Dr Stefan Hajkowicz: Principal Scientist in Strategic Foresight, CSIRO
Dr Paul Paterson: Chief Economist, Department of Communications & Head of BCR
Dr Ric Simes: Partner, Deloitte Access Economics

12:00 PM: PANEL – Solving the STEM Crisis to Assure a Prosperous Australia


Prof Ian Burnett: Dean, Faculty of Engineering & Information Technology, UTS
Prof Mary O'Kane: NSW Chief Scientist & Engineer, NSW Government
Sally-Ann Williams: Engineering Community & Outreach Manager, Google

12:50 PM: LUNCH 1:50 PM: PANEL – Using Technology as a Source of Competitive Advantage


Dr Hugh Bradlow: Chief Scientist, Telstra
Sara Braund: VP Chief Information Officer, Woodside Energy Ltd
Ajay Bhatia: Chief Product Information Officer, Carsales.com

2:40 PM: PANEL – Navigating Disruption


Drs Patrick Maes: GM Strategy & Planning GTSO and CTO, ANZ Bank
Cordelia Kerr: General Manager – Portfolio Management, Tabcorp
Dr John Burgin: Head of Digital – Asia Pacific, Cognizant
Michael Malone: iiNet Founder & Former Chief Executive

3:30 PM: AFTERNOON TEA 4:00 PM: KEYNOTE – Beyond Automation: Adding Value to the Work of Very Smart Machines


Tom Davenport: President's Distinguished Professor of Information Technology & Management, Babson College

5:00 PM: SUMMIT CONCLUDES



ACS DIGITAL DISRUPTORS AWARDS
& PEARCEY FOUNDATION AWARDS PROGRAM

6:00 PM: ROOFTOP COCKTAIL RECEPTION 7:15 PM: DOORS OPEN FOR ACS DIGITAL DISRUPTORS AWARDS CELEBRATION 7:30 PM: ACS DIGITAL DISRUPTORS AWARDS BEGIN 7:35 PM: WELCOME AND OFFICIAL OPENING


Nikki Phillips: Master of Ceremonies, Media Personality and Digital Influencer

7:45 PM: ACS INDIVIDUAL AWARD FINALISTS AND WINNERS ANNOUNCED 8:10 PM: ENTREE SERVED; NETWORKING BREAK
8:30 PM: MINISTERIAL ADDRESS


The Hon. Victor Dominello, MP: Minister for Innovation and Better Regulation

8:40 PM: PEARCEY FOUNDATION AWARDS 9:00 PM: 2015 PEARCEY FOUNDATION ORATION


John Grant: Managing Director of Data#3, Chairman of ARL Commission

9:15 PM: MAIN COURSE IS SERVED; NETWORKING BREAK 9:45 PM: ACS TEAM AWARD FINALISTS AND WINNERS ANNOUNCED 10:15 PM: DESSERT IS SERVED; NETWORKING BREAK 10:35 PM: ACS MAJOR PROFESSIONAL AWARD FINALISTS AND WINNERS ANNOUNCED 11:00 PM: AWARDS EVENING CONCLUDES
*
Note
: I was previously taken to task by a journalist after a TV interview in which I
complemented the Prime Minister, Malcolm Turnbull on his use of non-government email services
. I was criticized for not declaring a conflict of interest, in that I was on a board with Lucy Turnbull, the PM's wife, for five years. The
board is for On-line Opinion
, a not-for-profit academic on-line journal, Ms. Turnbull left the board more than five years ago and my role was confined to providing some advice on e-publishing. I don't think this is an interest, let alone a potential conflict, but I given the issue has been raised, I though I should mention it.