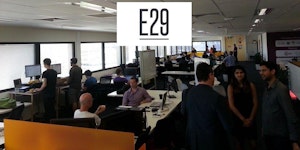 The ACT Government, in partnership with local universities, are training former public servants and universality students in how to set up a new business to commercialize an idea.
The Entry29 Co-working space is holding a free Canberra Tech Startup Open Day, at its Canberra city office on the afternoon of Friday, 16 October 2015. If you are curious about all the talk of new high tech Silicon Valley type company start-ups, it is a good opportunity to come along and see where it is now happening. You don't need to be a computer genius to start a new venture, in fact it helps if you are not (I mentor start-ups and judge hacker competitions). You can get a free ticket, if you are just interested, already have an idea or are working on your business venture.
ps: A "co-working space" is a shared office where new business ventures can rent cheap space while setting up.